VIRTUALGRIND®PRO 1.28 NEW FEATURES
EXTENSIONS IN WINDOWS EXPLORER FOR .VGP FILES
To improve the user experience, the information in a VirtualGrind Pro file can now be viewed directly from Windows Explorer. Version 1.28 allows the file explorer to display a preview of the tool in a thumbnail image and gives access to internal data in the file properties via a news tab named "VGPro" which has 4 sub-tabs:
General : main information about the program and tool
Snapshots : screenshots taken
Images : uploaded images
Texts : entered texts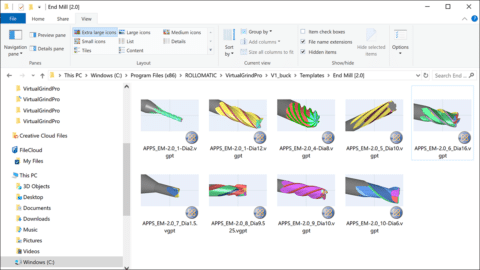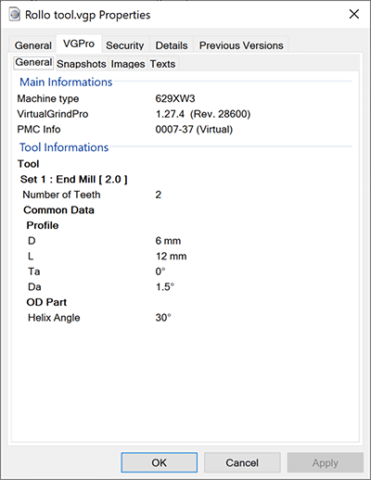 Thanks to a contextual menu action called "open with correct machine", these additional options allow VirtualGrind Pro to run with the machine and the version of PMC stored in the .vgp file.

BORING BAR
Boring bars are now integrated into VirtualGrind®Pro 1.28 as a standard option. The software allows operators to grind of both the cutting geometry as well as the shank features in one setup using a flipper.

PLUNGE
VirtualGrind®Pro 1.28 allows to prepare blanks on 5-axis GrindSmart® machines using a contact point on the grinding wheel chosen by the operator according to the application.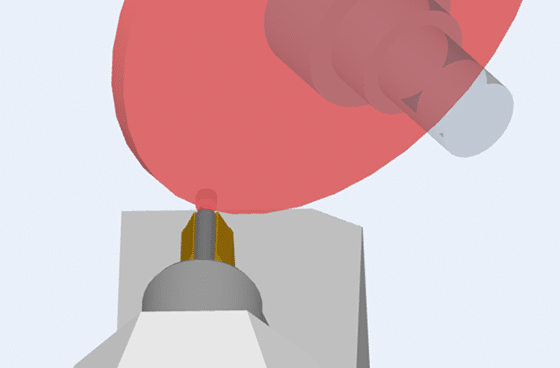 FLANGE PACK WITH MORE THAN 4 WHEELS
This version 1.28 has a new feature where the user can select Flange packs with up to 6 wheels. These Flange packs are added to the existing list and are available for the types "HSK50E 6 wheel ⌀20" and "PerfectArbor 6 wheel ⌀20".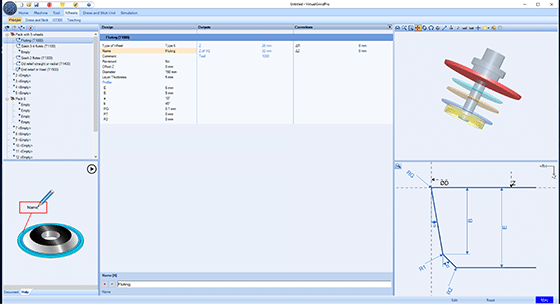 The organization of wheel packs has also been optimized in order to store them according to their frequency of use.


NEW WHEEL/NOZZLE PACK IMPORT INTERFACE
The user interface has been revised to enable the user to identify empty positions and to facilitate the importation of several wheel packs, especially on GrindSmart®630XW3 and GrindSmart®830XW machines.
In addition, when editing a new program with the entire empty wheel changer, the import of the wheel packs will automatically set positions 1-2-3 and 4.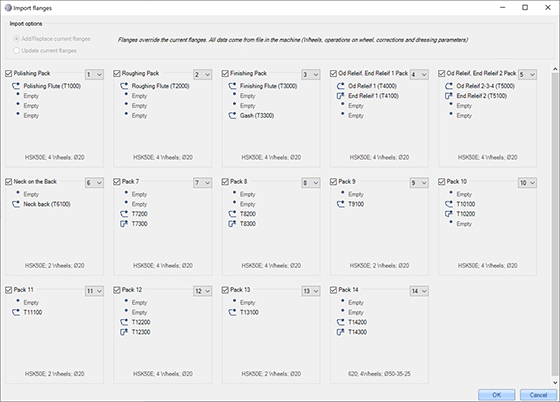 ANIMATION IMPROVEMENT
Several details have been added and improved in the animation in order to get as close as possible to reality.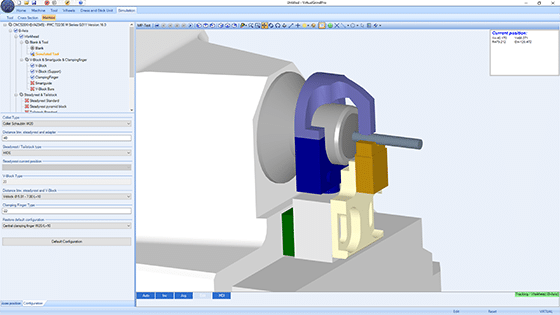 SHARP CORNER OPTION
Starting from 1.28 it is feasible to obtain a minimal physically possible radius in the internal corner of relieving operations. When this option is activated, no additional interpolation of any machine axes will be performed while moving to the next profile segment.